23 Easy Recipes Using Crescent Rolls
These delicious ideas for crescent rolls are savory, sweet, and easy for anyone to make!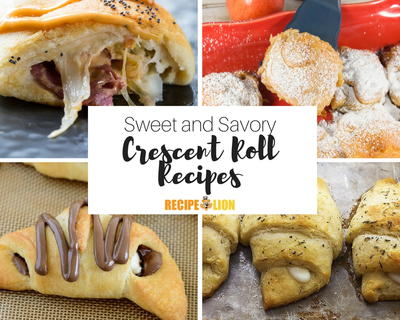 For years, the motto for Pillsbury Crescent Rolls has been, "flaky on the outside, soft on the inside." This very appealing attribute of crescent rolls has become the basis for many recipes, from cinnamon rolls to casseroles. Sweet and savory dishes incorporate the flaky, buttery bread that people everywhere can enjoy. Check out these 23 easy recipes using crescent rolls that cover all the bases -- appetizers, entrees, and dessert. With half of the work done for you and that delicious buttery taste we all know and love, these easy crescent roll recipes are sure to make you excited for that oven buzzer to go off. Make any meal a little bit easier with help from your favorite crescent roll or pastry dough. Casseroles and pastries have never been easier or more versatile with these delightful crescent roll recipes.

Looking for something a little sweeter in terms of your crescent roll recipe? Try one of our favorite easy crescent roll desserts below!
 
Table of Contents
Savory Crescent Roll Recipes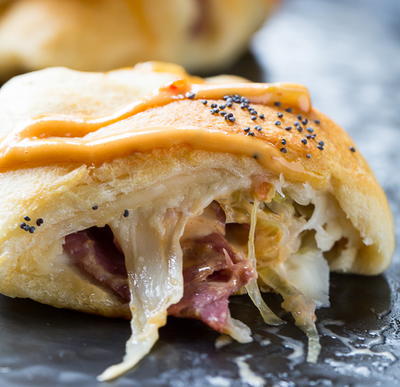 Any one of these delicious savory crescent roll recipes is sure to make breakfast, lunch, or dinner a hit -- not to mention budget friendly and totally simple. Try one from the list below, and let us know what you think!
Crescent Roll Dessert Recipes for Your Sweet Tooth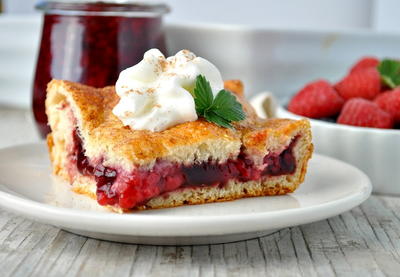 The easy crescent roll desserts below will take you for a stroll down the sweeter side of the street. Whether you choose to make one of these tasty recipes for breakfast or dessert, or maybe just as a sweet afternoon snack, we promise you won't be disappointed.
Homemade Crescent Roll Recipe
Ingredients

1 packet active dry yeast
1/4 cup water (warm)
1/2 cup milk (warm)
1 tablespoon sugar
2 cups bread flour
1 teaspoon salt
5 tablespoons butter, room temp

Instructions

1.   Combine water, milk, sugar and yeast in the bowl of a stand mixer. Let sit for 5 minutes. Add in bread flour and salt, mix for 2 minutes. Add butter and then mix again for about 2 minutes. Cover bowl and allow to rise for 45 minutes.

2.   Heat oven to 400 degrees F. Turn dough onto lightly floured surface and roll into a 12-inch circle. Like a pizza slice triangles. Starting with the flat (crust end) roll towards the point. This will form a crescent shape.

3.   Place on parchment lined sheet tray and brush with butter. Bake for 13 minutes. Remove and brush with butter. Allow to cool and serve.
The History of the Canned Biscuit
The first crescent roll pastry can be traced back to the 1400s in Austria where breakfast pastries called kipfel, were made with Brioche and were much denser and less flakey than the modern, Americanized croissant.

Marie Antoinette was said to enjoy kipfel in private when she married King Louis XIV, as she was unable to have any public ties to her homeland of Austria upon their union, and this delicacy reminded her of home. Rumor has it that pastry made its way to France, in part, because of Antoinette. Sweet pastries, a delicacy only enjoyed up until then by royalty and the like, became accessible to the common folk by the late 19th century and cafe culture in France began to include many craft pastry shops.

Fast Forward to present day, and our manufactured version of crescent rolls that come in a refrigerated tube at your local grocery store. How did this version spark into being? The former director of manufacturing for the refrigerated division at Pillsbury, Lowell Armstrong, and chemist, Lively B. Willoughby worked together during their time at Ballard & Ballard Co. to create and patent the first refrigerator biscuit dough in the 1930s. The product was first named, Ye Old Kentuckie Buttermilk Biscuits, and the patent lasted until 1948, at which point any company could make and sell the product.

Pillsbury eventually bought Ballard & Ballard Co. in 1951, expanding the product line of refrigerated products and continued to use the original process created by Willoughby. Back then, the originally marketed shelf life of the biscuits was about 2 weeks, but this has since increased to a shelf life of 2 to 3 months.

References: 
FAQ about Crescent Roll Dough
Q: Can you freeze crescent roll dough?
A: Yes! You can freeze the whole tube until you're ready to thaw and use it, so stock up next time they're on sale. As you know, this dough is multipurpose, so it's never a bad idea to have it on hand.

You can also freeze this dough after you've popped the can and used some. For best results later on, just make sure you seal your dough in a zip-top freezer bag or freezer container of some kind before the dough begins to rise or has been exposed to air for too long.

Q: What is the shelf life of a can of crescent rolls?
A: According to the book, Compendium of the Microbiological Spoilage of Foods and Beverages, canned dough typically lasts for up to three months when kept refrigerated and unopened.

The dough may still be usable after the manufacturer's printed expiration date, however, it won't be at its peak freshness and may appear dry and brittle, producing rolls that won't taste the best.

Once you open a can of dough, it will only last around 24 hours when placed in an air-tight bag in the refrigerator.

Q: Are crescent rolls vegan?
A: They sure are. This is likely because butter has a much shorter shelf life than hydrogenated palm oil.

Q: What are the nutrition facts of crescent rolls?
A: Serving Size:1 roll (28g), Amount Per Serving: As Packaged, Calories: 100, Total Fat 5g (8%), Saturated Fat: 2g (10%), Cholesterol: 0mg (0%), Sodium: 210mg (9%), Total Carbohydrate: 12g (4%), Dietary Fiber: 0g (0%), Sugars: 3g, Protein: 2g
*This information is for Pillsbury's Original Crescent Dinner Rolls™ dough.

Q: What are the ingredients in a tube of crescent rolls?
A: Enriched Flour Bleached (wheat flour, niacin, ferrous sulfate, thiamin mononitrate, riboflavin, folic acid), Water, Soybean and Palm Oil, Sugar, Hydrogenated Palm Oil, Baking Powder (baking soda, sodium acid pyrophosphate, sodium aluminum phosphate). Contains 2% or less of: Partially Hydrogenated Soybean Oil, Mono and Diglycerides, Vital Wheat Gluten, Dextrose, Salt, Potassium Chloride, Xanthan Gum, TBHQ and Citric Acid (preservatives), Yellow 5, Color Added, Red 40.
*This information is for Pillsbury's Original Crescent Dinner Rolls™ dough.

Q: If I have allergies, what do I need to know about crescent roll dough?
A: It contains wheat ingredients, however, Pillsbury™ has started selling a line of gluten-free products for those with gluten intolerance.

Q: How many crescent rolls come in one tube?
A: There are 8 rolls per tube.

Q: What types of crescent roll dough does Pillsbury™ offer?
A: Pillsbury™ sells the following types of crescent rolls: Original Crescent Dinner Rolls, Reduced Fat Crescent Dinner Rolls, Butter Flake Crescent Dinner Rolls, Honey Butter Crescent Dinner Rolls, Crescent Rounds, Crescent Dough Sheet, Big & Buttery Crescent Dinner Rolls, Big & Flaky Crescent Dinner Rolls
What are your favorite recipes with crescent rolls? Let us know in the comments below!
Your Recently Viewed Recipes
Join our community of 5 million cooks!
Get free recipes, exclusive partner offers, and more.
Thank You for Signing Up!
There was an issue signing you up. Please check your email address, and try again.