Apple Pie Pull Apart Loaf
This easy apple bread recipe practically bakes itself!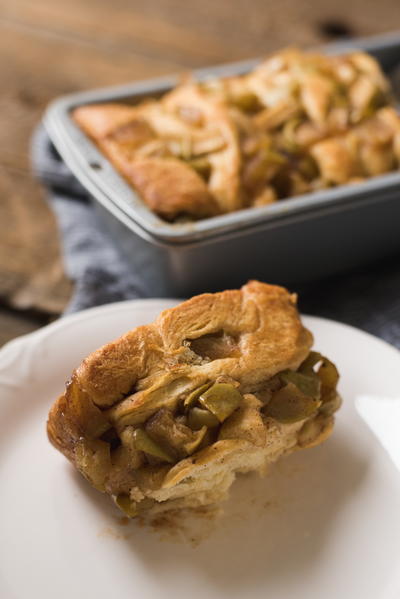 Apple Pie Pull Apart Loaf
Love apples? Love Bread? Love simplicity? You've come to the right recipe! If you're looking for a super easy shortcut recipe that basically makes itself, look no further than this Apple Pie Pull Apart Loaf. This is the best recipe choice for breakfast or a sweet snack everyone can enjoy together. By using pre-made dough, half the work is out of the way! All you have to do is prep the delicious apple mixture, place it in between the biscuit rounds, and bake! When it's fresh out of the oven, you'll have a tasty apple dessert that will bring the sweetness of fall right to your plate.

Ingredients
1 can Grands refrigerated biscuits (buttermilk, original, or honey butter - all work well)
For the Filling
2 granny smith apples, chopped
1 tablespoon lemon juice

1

/

3

cup brown sugar

1

/

3

tablespoon granulated sugar
2 tablespoons maple syrup
1 teaspoon ground cinnamon

1

/

2

teaspoon ground nutmeg
Instructions
Add all filling ingredients to a large saucepan over medium heat. Cook, stirring occasionally until the apples have browned and softened and the sauce has thickened. Set aside to cool.

Heat oven to 350 degrees F. Spray a 9x5-inch loaf pan with cooking spray.

Using a paring knife, cut each biscuit in half horizontally to make 16 biscuit halves (you should be able to cut them slightly and then pull them apart the rest of the way).                   

Flatten each biscuit half with your hand to thin them out. ​Spoon about a tablespoon of the apple filling onto each biscuit half.

Stack the biscuit halves on top of one another to form four stacks with four biscuit halves each.  Place the stacks in the loaf pan, arranging so the ends of both sides have biscuit without filling touching the pan. (You'll have to sandwich two filling-sides together in order to do so, and that's completely fine.)

Cover with aluminum foil and bake for 30 minutes. Then, remove the aluminum foil and bake until golden brown and cooked through, checking every 5 or so minutes.                 

 Let the loaf cool for 5 minutes in the pan and then remove from the pan.
Your Recently Viewed Recipes