25 Very Easy Dessert Recipes with Bisquick
Make sweet and sugary dessert recipes with these Bisquick shortcuts!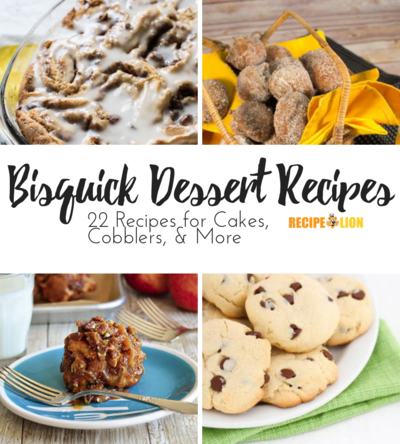 Convenience is always important when it comes to dessert. Recipes with Bisquick are quick, easy, and delicious. This collection of 10 Very Easy Dessert Recipes with Bisquick allows you to enjoy the pleasures of dessert without all of the hassle.

People say that breakfast is the most important part of the day, but who are they kidding? Everyone with a sweet-tooth knows that easy dessert recipes are much better than easy breakfast recipes. The great thing about recipes with Bisquick is that they are done in minutes, and taste like you spent all day over a hot stove. From short cake recipes, to appetizing coffee cakes, there are so many easy recipes with Bisquick that you can make for dessert.

The best thing about a Bisquick dessert recipe is that you know it'll turn out perfect every time! From Bisquick cake recipes to Bisquick cobbler recipes (always a favorite), your options are limitless in the kitchen. We've assembled some of our editors' picks for our favorite Bisquick dessert recipes. Even the busiest of would-be bakers will have time to cook thanks to these easy desserts. If you love any of them, make sure to let us know in the comments section below!
Table of Contents
Bisquick Pie and Cake Recipes
Baking a cake or making a pie doesn't have to be a time-consuming endeavor. These bisquick cake and pie recipes are short-cut sweet treats that take a lof of the work out of baking. You'll love how easy these recipes are and your guests will love how they taste. Bisquick is a fantastic ingrdients for pie crusts and cakes because it lends a unique texture that is crazy easy to achieve.
Bisquick Cookies & Bars
Whip up a batch of quick and fresh cookies in a matter of minutes with these recipes. This yummy Bisquick dessert recipes are perfect for holidays, bake sales, and school lunches. Adding Bisquick to cookie recipes adds a soft and flufft texture.
LOVE BAKING WITH BISQUICK?

Then you're going to love this list of Bisquick ideas to start your morning out right!

Head on over to our list of breakfast ideas for17 Best Bisquick Breakfast Recipes
Sweet Breakfast Recipes with Bisquick
You've had Bisquick for breakfast in pancakes and waffles, but why not make something even sweeter? You're going to love these dessert for breakfast recipes. Bisquick cinnamon rolls are one of our most-clicked recipes. It's easy to see why! Look how delicious these breakfast breads look.
Bisquick Cobbler Recipes
Other than the classic pancake recipes, Bisquick cobblers are one of the most popular ways to use this well-known and classic ingredient. Using Bisquick to make cobblers is crazy easy and the end result is tasty. If you're on the hunt for a last-minute way to wrap up a meal with something sweet, these Bisquick dessert recipes are for you!
BRING BISQUICK INTO YOUR KITCHEN
FOR BREAKFAST, LUNCH, & DINNER!

We've got more than desserts! Discover our list of tasty Bisquick recipes in our collection of25 Best Bisquick Recipes
Bisquick Doughnuts and Other Treats
Still looking for a way to do right by your sweet tooth? We've got even more sweet treats made with Bisquick. Look out below for even more dessert recipes made Bisquick.
Unbeatable Apple Cider Doughnut Bites are a great breakfast or dessert recipe that wins in taste every time. You'll enjoy how light and fluffy these homemade doughnuts turn out, and with a sprinkle of cinnamon sugar on top, you're sure to fall in love after just one bite. 

Get the recipe!
These homemade doughnut holes are so simple, you can practically make them in your sleep. In-Your-Sleep Apple Cider Doughnut Bites are made using Bisquick and just a few other ingredients, and will become a favorite fall recipe in no time. 

Get the recipe!
Using refrigerated buttermilk biscuits as the base, this easy doughnut recipe is way less work than making doughnuts completely from scratch. It's okay to take the easy road, especially when the end result is this delicious. 

Get the recipe!
Your Recently Viewed Recipes
Join our community of 5 million cooks!
Get free recipes, exclusive partner offers, and more.
Thank You for Signing Up!
There was an issue signing you up. Please check your email address, and try again.