30-Minute Perfectly Broiled Steak & Vegetables With Bearnaise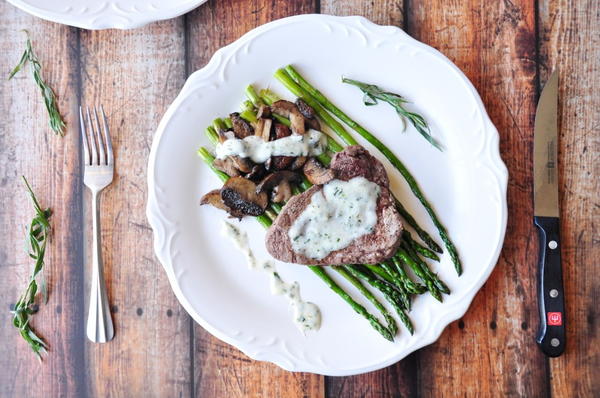 30-Minute Perfectly Broiled Steak Vegetables With Barnaise
"A totally affordable fancy steakhouse meal that you can make at home in just 30 minutes. Cooked asparagus goes onto the plate first, then steak. What does that mean? Better presentation AND keep your steak warm! Drizzle with a 3-ingredient béarnaise."
Serves2
Ingredients
2 (1 to 1 1/2 inches thick) strip, ribeye or sirloin steaks (I used petite sirloin.)
1 pound asparagus
6 ounces baby bella mushroom, sliced
1 teaspoon fresh tarragon, finely chopped
6 ounces lemon yogurt
2 tablespoons unsalted butter, melted
1 teaspoon sea salt, divided
1 teaspoon black ground pepper, divided
1 cup extra-virgin olive oil
Instructions
Bring steak to room temperature. Pat dry with a paper towel.

Place an oven rack 6 to 8 inches below the broiler element. Preheat broiler with an oven-safe skillet on the rack for 20 minutes.

In the meanwhile, whisk together yogurt, butter and tarragon. Add a pinch of salt and pepper. Set aside.

Brush 2 tbsps olive oil onto each side of the steak. Sprinkle with 1/2 tsp salt and 1/4 tsp pepper.

Remove tough root end from asparagus. Arrange a single layer of asparagus and mushroom on a baking sheet

Brush the other 2 tbsps olive oil evenly on vegetables. Sprinkle with the rest of salt and pepper.

When broiler is preheated, turn on your stove burner to high heat.

Carefully remove the skillet from oven to the stovetop burner with EXTREME CAUTION. Use your thickest oven mitt for this step.

Place steak in the hot skillet with sturdy kitchen tongs. It should immediately be sizzling once the steak touches the skillet. Sear each side for 30 seconds. Turn off the heat from your stove.

Bring the skillet with the steak back to your oven. Cook the steak for 2 minutes. Open the oven and carefully flip the steak, using the long tongs. Return to the oven and cook for an additional 2 minutes. At this point your steak will be medium-rare. If you prefer your steak closer to medium, add 2 minutes to the oven time for each side.

Remove steak from the oven and cover with foil to keep warm as well as allow the steak to rest.

Now place the vegetables into the oven. Cook for 5 minutes. The asparagus and mushroom should be done at this point. Open the oven and check. Flip and cook for another 2-3 minutes if necessary. Turn off the broiler.

Divide asparagus between two serving plates. Top with steak and then mushrooms. Drizzle béarnaise sauce over steak and serve immediately.
Your Recently Viewed Recipes