Cheesy Mashed Potato Fries
Do you ever combine your favorite comfort foods? These mashed potato fries (also known as fried mashed potato sticks) will make you want to start!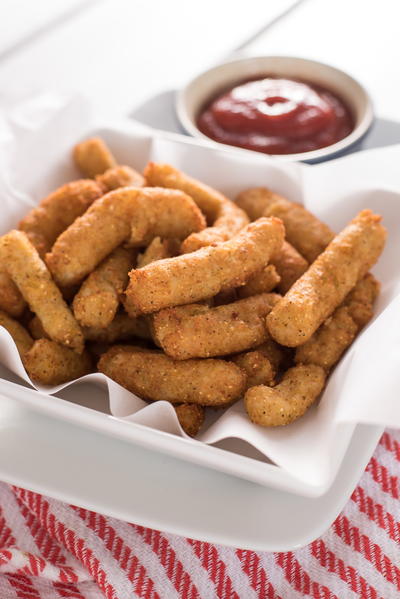 Cheesy Mashed Potato Fries
If you're looking for a recipe more exciting than regular French fries, but still in the same vein, these mashed potato fries are not to be missed. Mashed potatoes are combined with 3 different kinds of cheese, fried to golden perfection and served with ketchup for the ultimate snacking experience.

This is one of those foods that everyone will ask for on repeat once you've made them. Your friends and familiy will love them because they taste delicious, and they seem tricky to make. You'll love them because they're budget-friendly, a great way to use up leftover potatoes, and actually pretty easy to cook. You might even get in the habit of cooking extra mashed potatoes just so you can have leftovers for these yummy mashed potato fries!

Can You Freeze Mashed Potatoes?

Yes! Just make sure you include some butter and sour cream (or cream) in your mashed potatoes when you cook them. The fat will improve the texture when you are ready to warm them up again. To freeze, measure out the mashed potatoes in 1 cup portions. Then freeze them on a baking sheet for 4 hours or overnight. When the portions are frozen through, you can toss them in a large freezer bag and store in the freezer. To reheat, thaw in the refrigerator and then heat through in the oven, microwave, or on the stove!

Can You Make Fried Mashed Potatoes Using Cauliflower?

Sure! Fried cauliflower is a well-loved restaurant appetizer, so why not make fried mashed cauliflower? Our only concern would be whether the cauliflower will hold together as well as the mashed potatoes (since they are less starchy). If you have a hard time making the French fry shape, try rolling the mixture into balls or fritters instead.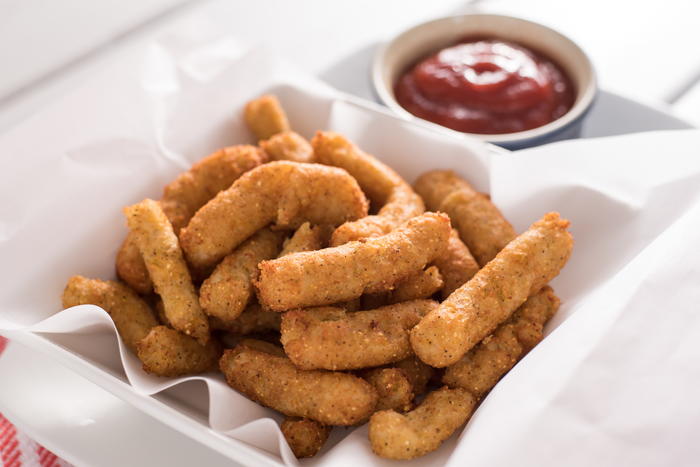 What to Serve with Mashed Potato Fries

This yummy snack is almost a meal on its own, but we understand that you might want something else to go with it. Consider pairing your mashed potato fries with other fried appetizers like onion rings, mozzarella sticks, or Buffalo wings. For a more balanced approach, we love these with baked chicken, fried fish, coleslaw, pulled pork, or roasted veggies topped with salt and vinegar. You can also pair them with anything you'd normally pair with French fries! Burgers, chicken sandwiches, and falafel are all good options.

As for dipping sauce?

You can buy or make any dipping sauces you like, but we recommend ketchup, ranch, or mustard for a truly satisfying snack you're sure to crave over and over.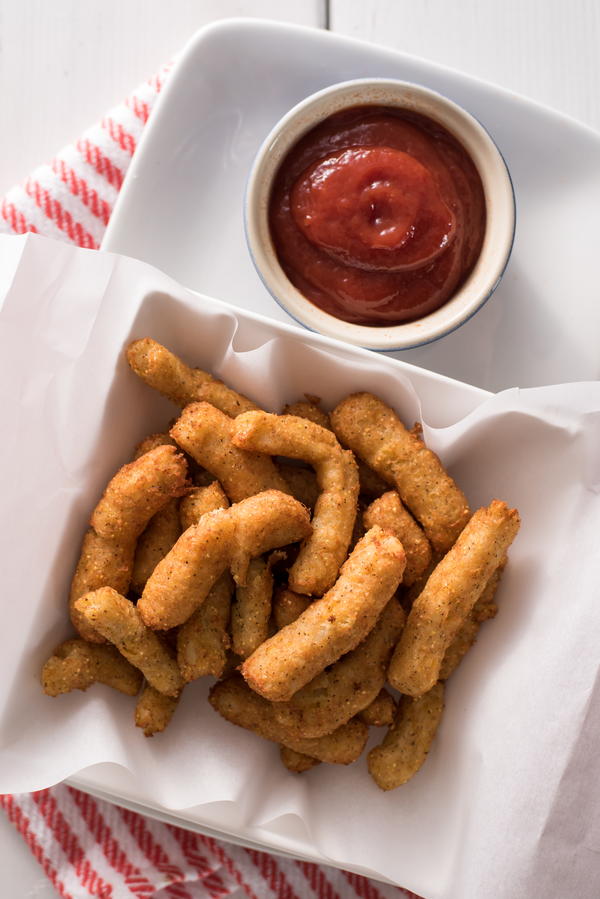 Cheesy Mashed Potato Fries Recipe
Serves2 - 3 Servings
Ingredients
1

2

/

3

cup chopped russet potatoes, cooked, mashed and cooled
2 tablespoons parmesan cheese

1

/

2

cup finely grated cheddar cheese

1

/

2

cup finely grated Colby-Jack cheese
3 tablespoons corn flour
1 egg
3 tablespoons milk
1 teaspoon kosher salt
1 teaspoon pepper
Vegetable oil for frying
Directions
In a medium bowl combine and mix well the mashed potatoes, parmesan, cheddar and Colby-Jack cheeses, corn flour, egg, milk, salt and pepper.

Heat vegetable oil in a sauce pan to 340 degrees.

Snip end of piping bag and carefully drop batter in long French fry shapes into the hot oil and cook until golden and crispy about 1 minute.

Remove from oil and place on paper towels to drain.
Can I fry leftover mashed potatoes?
Leftover mashed potatoes aren't exactly snackable! While indulging in a big bowl can be fun, finding unique ways to transform leftovers into something new is the best way to stretch your big meals into two or three! 

You can fry leftover mashed potatoes! In fact, their consistency might be a little bit better for frying since they will stick together better while creating your fries or balls. One thing to keep in mind if you do plan on frying mashed potatoes is storing them correctly for the next day. Instead of placing hot and steamy potatoes in the oven, make sure to let them come to room temperature first. This will avoid getting excess moisture in your leftovers that will make them easier to fry.
Your Recently Viewed Recipes
Join our community of 5 million cooks!
Get free recipes, exclusive partner offers, and more.
Thank You for Signing Up!
There was an issue signing you up. Please check your email address, and try again.