How to Open Wine
Learn how to open a bottle of wine with two different techniques!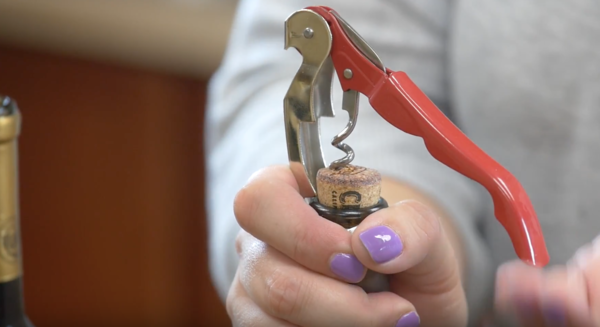 How to Open Wine
Learn How to Open Wine for your next holiday party or celebration. It's an important skill to master if you're going to be a great host or hostess. Whether you enjoy red, white or rose, most wines are corked, meaning you will need to learn how to use a wine opener. It can be a little tricky if you've never done it before, which is why our step-by-step video breaks it down in a few easy-to-follow steps. One you practice uncorking a bottle of wine a few times, you're sure to become a pro! Now you can make all your parties and special occasions complete with a nice glass of wine. Cheers!
Method #1:
Remove the foil at the top of the bottle. Using a corkscrew (the tool with two "bunny ears" or "arms), pierce the top of the cork and begin screwing it in. Make sure you hold the bottom of the corkscrew and the top of the wine bottle firmly in your grip while you're doing this. The arms will begin to raise as you screw downward.

Once the arms of the corkscrew are completely raised, push them back down to release the cork. You will need to jimmy the remaining portion of the cork that is still stuck in the bottle out with your hands.
Method #2:
If you prefer to use a wine key, you will need to do relatively the same process with some minor variations. 

Tear the top of the foil off the bottle by using the knife in your wine key.

Next, open the key up to the corkscrew part and pierce the top of the bottle. Holding the bottom of the screw and the top of the bottle for stability, start screwing the corkscrew down into the cork.

Once you have screwed the corkscrew a little more than halfway into the cork, you will want to pull down the other side of the screw (the part that doubles as a bottle opener) and make sure it is able to latch onto the rim of the bottle. This will be the leverage you need to pull the cork out.

Holding the wine key parallel to you, hold the bottle opener side of the wine key to the neck of the bottle and make sure you have a firm grip, as you push the handle side downward to release the cork. Again, you may need to jimmy the end of the cork out if it's stuck.
Your Recently Viewed Recipes
Join our community of 5 million cooks!
Get free recipes, exclusive partner offers, and more.
Thank You for Signing Up!
There was an issue signing you up. Please check your email address, and try again.